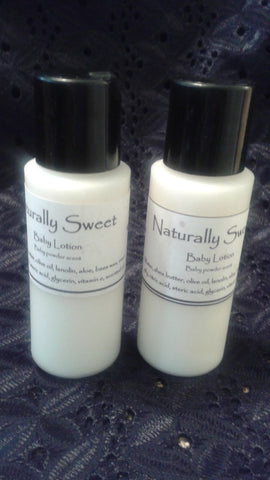 Shea Baby Lotion is designed specifically to maintain the delicate skin and pure scent of a newborn. For adults It will enhance your skin's look and feel, moisturizing and soothing it with gentle oils! 
Each product contains what is listed in the name… oils (natural) shea butter (natural) scents (natural scented oil)
Promotes Hydration, Improves Skin Tone and Softens your Skin With Natural Nutrients and is very gentle to you and your baby's skin. 
Ingredients: shea butter, olive oil, castor oil , aloe,steric acid, citric acid, bees wax, emulsify, neem, alantion, vitamin E, purified water, silk, scented oil..
All products are produced in a structured home workshop and proper adherence to the FDA & other major regulation boards... Key Legal Concepts: Interstate Commerce, Adulterated, and Misbranded are followed.